Hey people! I'm feeling much better liao... :)
Fever has gone; I'm back to my chirpy self; BUT still no sign of any bowel movement/s. SIGH...
But Mummy found out that it's pretty normal lah, especially to those babies who just started on solid foods. And also that barley water might help; so I got a taste of that today. Not very sedap lah...hee....
Since I'm more or less back to my normal self, I found time to pose as Darth Sidious aka Darth Vader's sifu...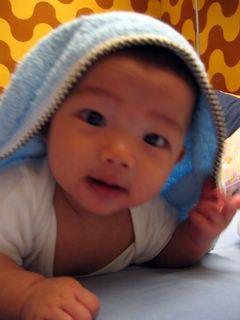 Actually, Daddy put it over me one...so bo liao right? Heh.