They are finally here.
I can actually see
them
more clearly now.
On a less painful note, Mummy brought me to Aunt Malathi's house last Saturday. Aunt Maddy was there too, and they took turns playing with me. Not that I'm complaining of course. Hee...
Here's me, posing on Aunt Maddy's Vespa. Pretty cool huh? :)
If you look really really closely
(bottom left hand corner lah :P)
, you can see Aunt Malathi trying her best to keep out of the camera's view, whilst still trying to balance me on the Vespa...hahahaha...
Which reminds me...Mummy also has a picture of herself on a motorbike when she was a young girl then too! My Mummy also very cute hor...hee hee...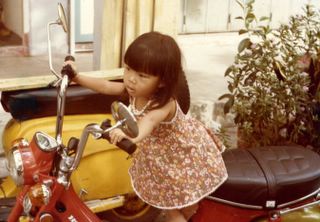 It sure looks like this was taken in Malaysia hor?
Haha...